Of Leaves as Tongues
Boundary, Chicago, 2022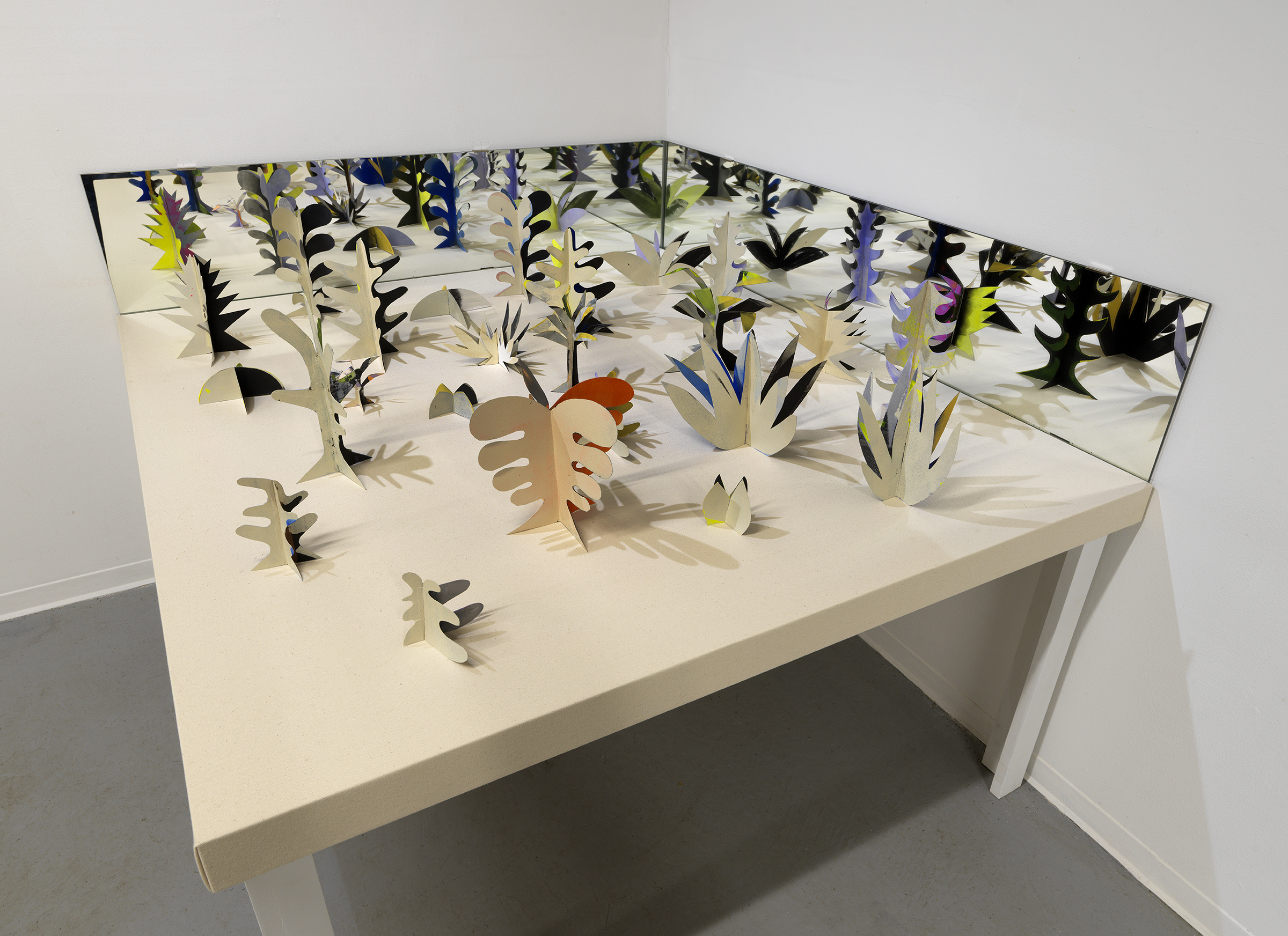 Fern Fever
Terrain Biennial Enos Park, Springfield, IL 2021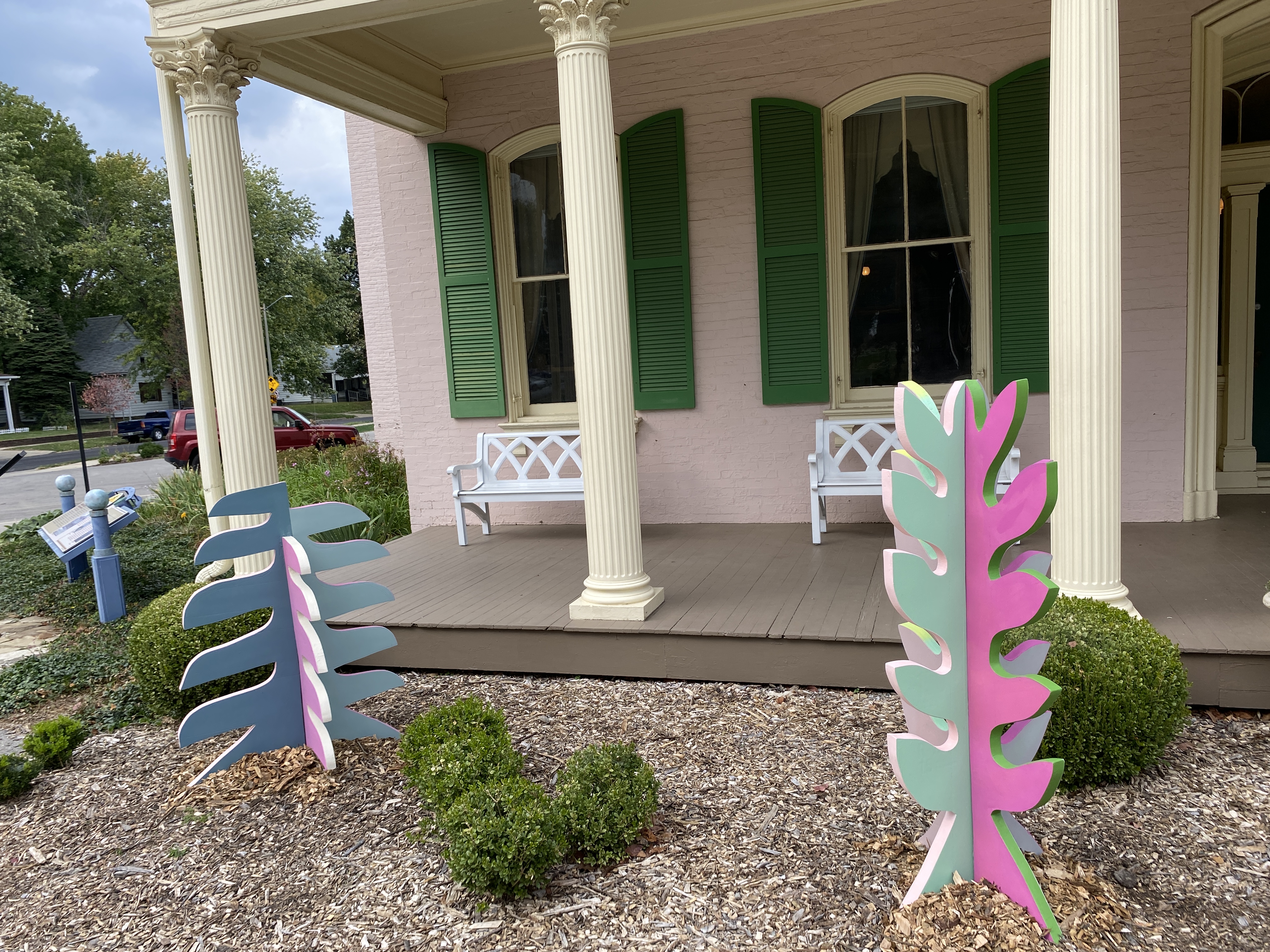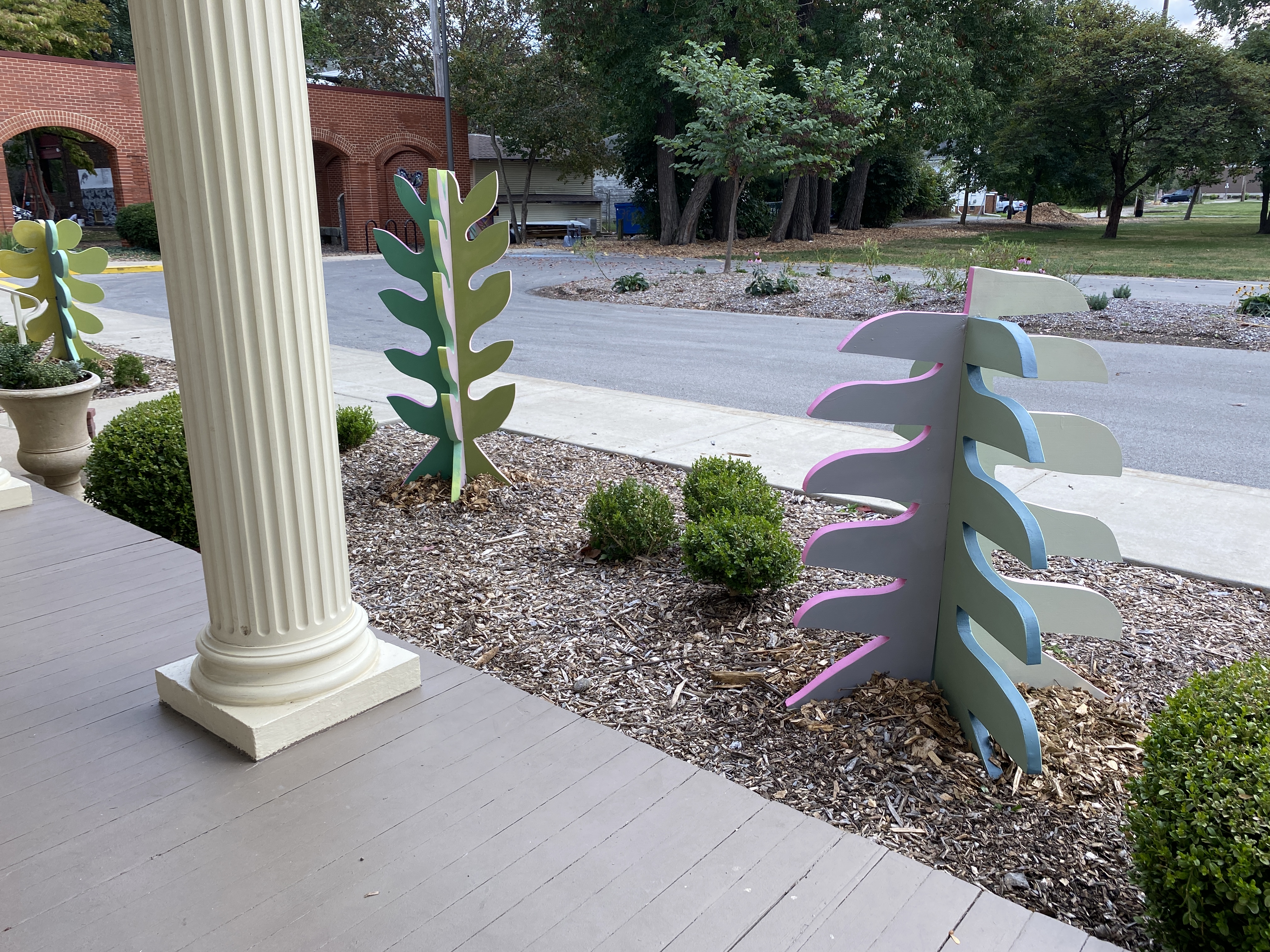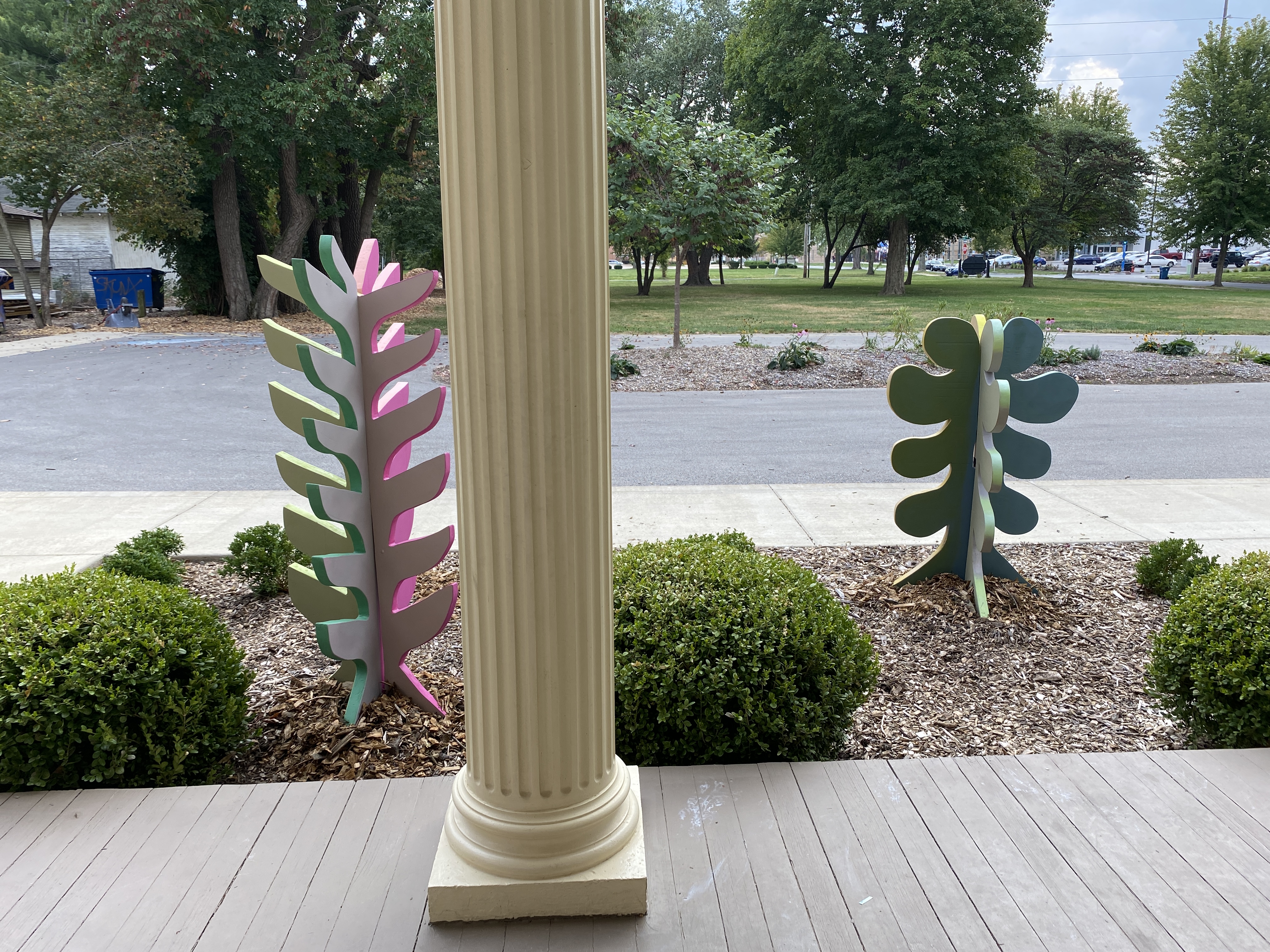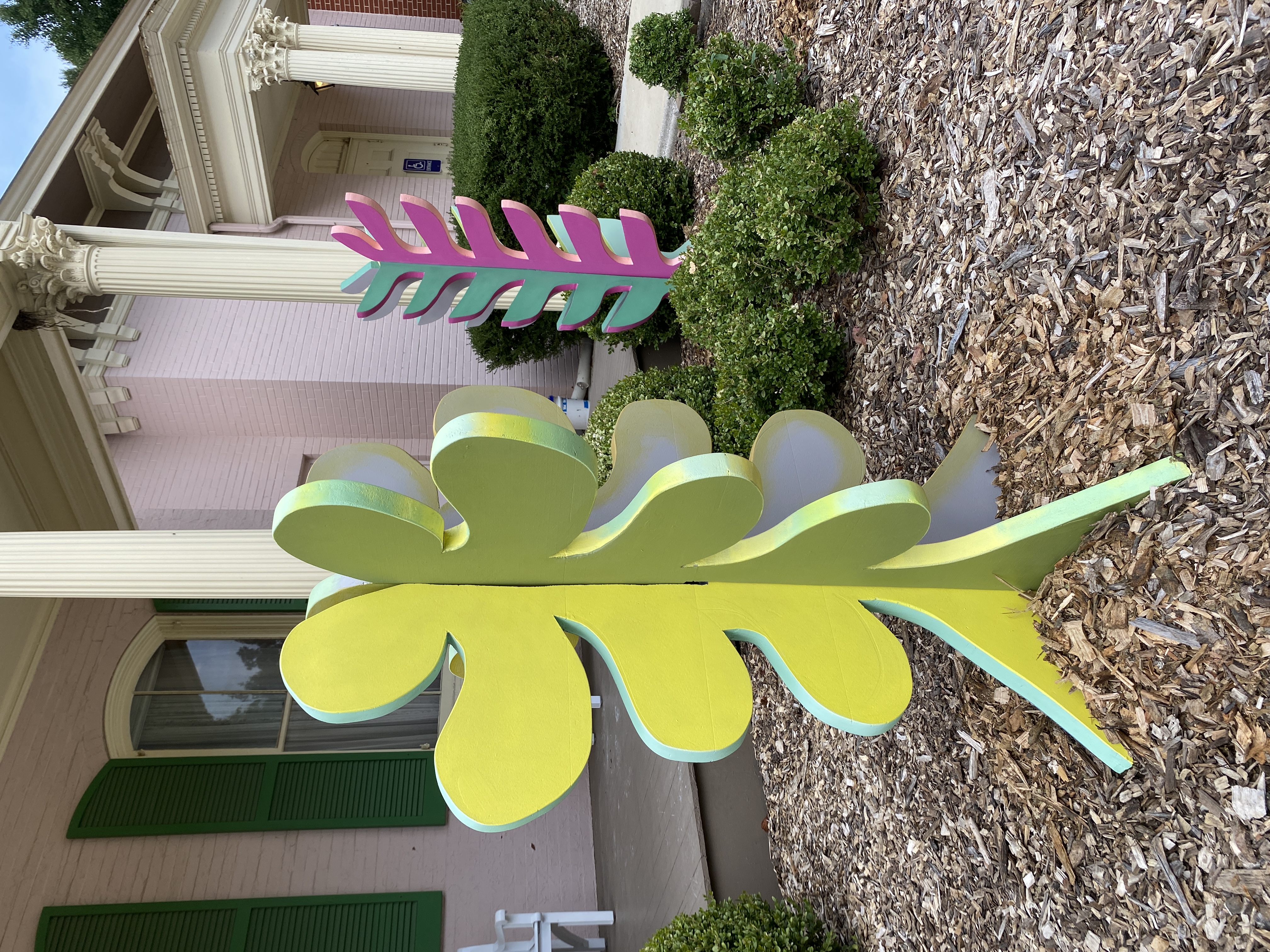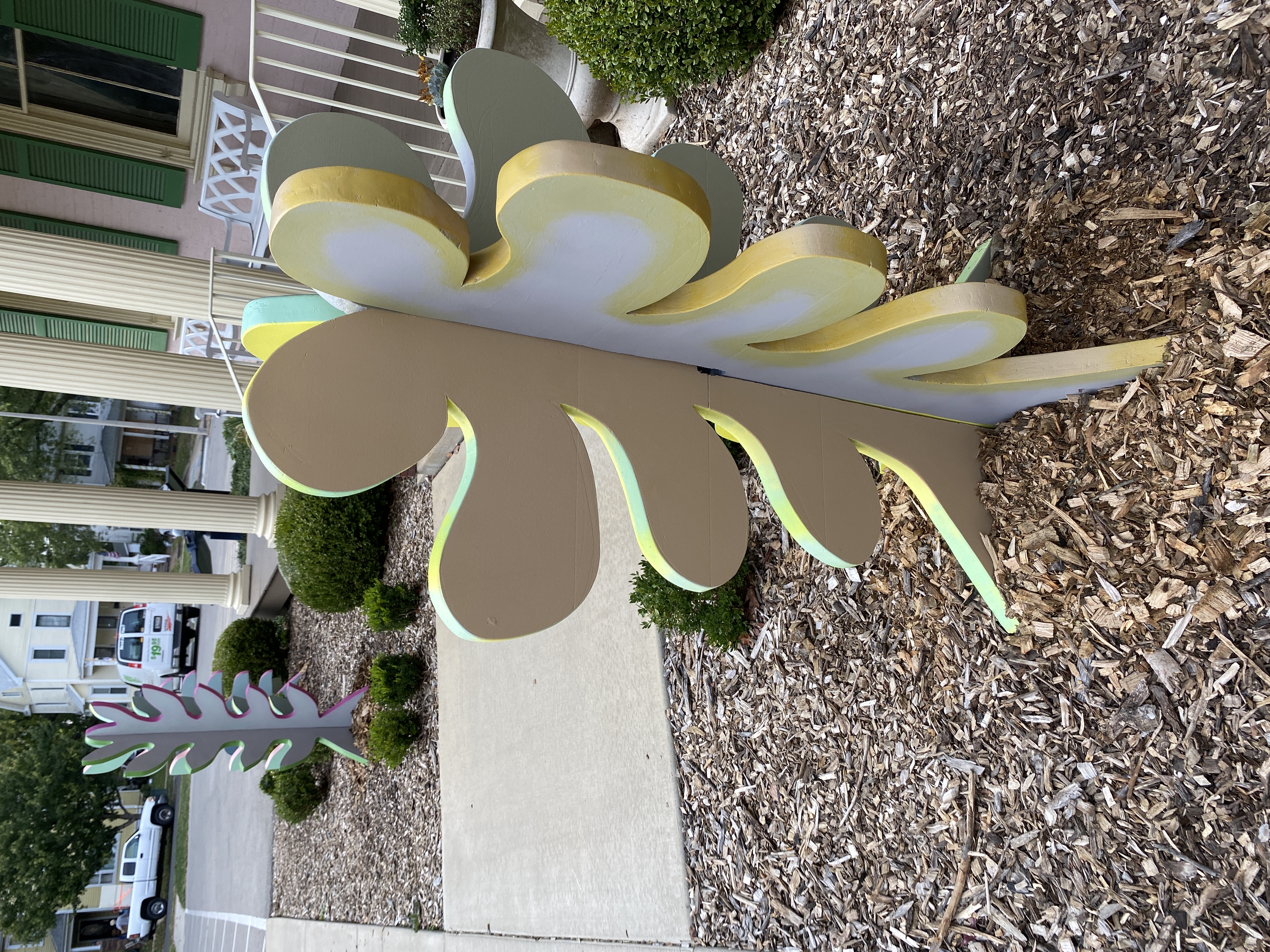 Fern Fever placed human scale, oversized, freestanding lawn sculptures that referenced basic leaf shapes of ferns into an architectural context, bridging a space between garden and city.

In the Victorian era, ferns were obsessively collected by people from all walks of life. They are ancient plants that people continue to admire and cultivate. Offering an aesthetic and material antidote to conditions of industrialization, this fern fever, or "pteridomania" resonates with our contemporary desires for greenness and greenery, and increasing recognition of plant vitality.
Collage Office: The Franklin Outdoor
The Franklin, Chicago, IL 2019

Organized by Melissa Oresky and Alice J. Lee, Collage Office was a participatory project where gallery visitors engaged with artists as they worked, receiving an artwork in exchange for a pay as you wish donation. It was the third and most elaborate iteration of Collage on Demand, a project done twice before by Melissa Oresky, where she moved a portion of her studio into a gallery space and made collages for participants who sat and engaged in conversation with her as she worked. The collages were then given to the participants, who could choose to make a charitable donation in exchange.

Collage Office posed questions about how artistic labor is experienced and valued. How is it like or not like other professions such as therapist, lawyer, craftsperson, or repair person? Can a gift economy be cultivated within a culture that values art as a commodity? The artist and visitor participated together in a transaction that was both personal and professional, addressing the exchange values surrounding artistic production.
Collage on Demand: Subdivision, with Zak Boerger
University Galleries, Illinois State University, Normal, IL 2017

Over the course of a week, University Galleries was the site of a series of Collage on Demand events. This was a participatory process where Oresky made artwork for gallery visitors during a conversation. At the end of this six day period, the collages grew to cover the structure she and musician collaborator Zak Boerger "inhabited."

Collage on Demand: The Franklin Living Room
The Franklin, Chicago, IL 2013
The first of the Collage on Demand events took place in the Franklin's indoor space, with each participant in the process keeping their collage for a donation to the Letha Melchior Rodman Cancer Fund.
Succulent Succulent
DEMO Project, Springfield, IL 2017

This exhibition consisted of a video and a corresponding collage, using the form of an agave plant as structure to contain and transmit light and information. In DEMO's small back gallery, a monitor faced an image made primarily of reflective surfaces, providing light to view and animate its surface. The plant's repeating form opened a conversation between stillness and movement, reflection and absorption, singularity and multiplicity.

Solar Anvil
Heavy Brow Gallery, Bloomington, IL 2013

"ZENITH

NOON beats out

on its solar anvil

the rays of light"

― Sonia Delaunay

Against a backdrop of walls painted a color well described as "the last yellow before orange," the exhibition featured paintings and video that engaged a language of geometric abstraction that could also be seen through the lens of landscape, becoming a form of "diurnal sky space."

Set to the intensity of the yellow-orange gallery, Solar Anvil was an experiment that tested the intensity of this color against Heavy Brow's tiny, idiosyncratic space, while nesting discrete works within the gallery walls. The works in the exhibition were intended to act as crystallized fragments of daytime, and to always return to the referent of the sun, no matter what other constellation of suggestions may have been provoked.


Tangled Grounds
Elmhurst Art Museum, Elmhurst, IL 2011

The work in Tangled Grounds placed scientific and illustrative fragments of pictures alongside liquid, painterly marks and geometric forms. The manner in which the paintings were organized suggested landscape as experienced from a human distance and perspective — that of a walker looking at the ground, seeing crisscrossing roots, branches, wet and dry elements, and light raking over these tactile and structural buildups. Melissa Oresky likened her placement of these items to debris: "I am interested in the way debris tends to self-organize, and the way the tactile and the structural coexist on the ground."